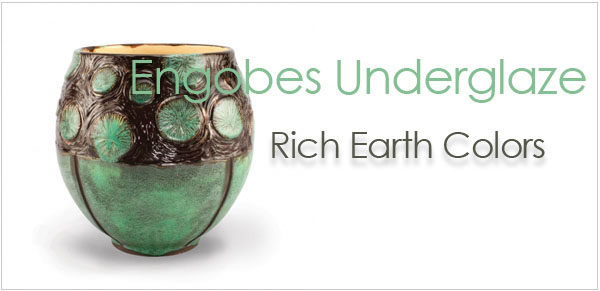 AMACO Engobes (SE) Lead Free and Non Toxic
Engobes are the surface decoration of choice for artists interested in sgraffito, slip trailing, and painting. Unlike glazes, which are designed to melt and turn glassy over a surface, engobes work a bit more like paints or underglazes in that they 'stay put' once you apply them to a ceramic surface.
The reason for this is that engobes are either natural clays, or a mixture of clays and ceramic raw materials, so they behave like a slip. The engobe palette, too, is somewhat clay-like -- you can expect beautiful subdued earth-tones that will add variety and texture to the surface of just about any clay project. Our AMACO engobes come to you in dry form in a plastic container that is great for on-the-spot mixing -- just add water to obtain a working consistency like thick cream. Engobes work best at low fire temperatures (Cone 04-06) but can also be used at midrange temperatures (Cone 4-6).
To download a copy of the AP (Non-Toxic) colors MSDS sheet in PDF format, please click here.