Our online shop is always open!
Attention local customers: our retail store is closed until further notice, please click HERE for more information.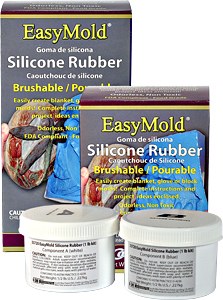 EasyMold Silicone Rubber 1 Lb
$50.95 $40.95 $10.00
Item #: ETESR
Now you can easily creat blanket, glove or block molds! EasyMold Silicone Rubber is ideal for a large range of applications and is odorless, non toxic and FDA Compliant. Cast a variety of mediums including Castin'Craft Clear Casting Resin, EasyCasy Clear Casting Epoxy, wax, baking, chocolates, ice cubes, soap, plaster, air dry clay, concrete, and low melting metals. EasyMold is a two component silicone rubber.

Features:
- 45 minute to 1 hour work time, 24 hour cure
- Produces extremely fine detail from original
- No shrinkage
- Self-releasing (no mold release agent required for most applications)
- High heat range, up to 400º F
- Strong flexible re-useable molds
- No vacuum equipment required
JOIN OUR NEWSLETTER!