L&L E18T Kiln, 240-volt single-phase, with 2.5" brick and standard elements





We love the Easy Fire Series. L&L is a local company for The Ceramic Shop, and we love to support local business. Why should you choose an L&L kiln? The hallmark of the L&L kilns, what really sets them apart from other kilns, is the Dyna Glow Ceramic Element Holders. They protect your firebrick through years of Cone 6 and Cone 10 firings, promising better heat distribution inside the kiln, and ease in replacement of the elements when it becomes necessary. L&L Kilns are built to last and easy to maintain. L&L has 64 years of experience in making quality kiln products and offering top notch customer service.

Upgrade the 12-key controller to the new Genesis touch screen here!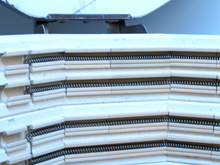 Image shows close-up of Quad Elements Add-on Option

Please note that addition of Quad Elements does not change the kiln specifications.

Related Items:
Ceramic Shop Furniture Kit (Save money and get free gloves and stilts!)
Furniture Kit (for 2.5" model)
Furniture Kit (for 3" model)
Grinding Brick
Vent-Sure System
Kiln Gloves
Lift Gate



Watch the DynaTrol Control in action.


Read the specification sheet

Furniture/Accessory Kit (not included and available under "Related Items" above) includes:
- One 15-1/2'' full round shelf
- Four 15-1/2'' half shelves
- Six each of 1/2'', 1'', 2'', 4'', 6'', and 8'' square posts
- 1 pound of cone 10 kiln wash
- One pair of temperature resistant gloves for unloading

Three Year Warranty

Shipping Weight 240 - 260 lbs



Max Firing Temp: Cone 10 (2350F)
Inside Dimensions (inches): 17.5 Diameter x 27 High
Outside Dimensions: 29W x 30D x 40H
Cubic Feet: 3.9
Amps: 35
Breaker Required: 50
Plug: NEMA 6-50
Shipping Weight: 230 lbs