The Kingpin 88 combines classic style with Evenheat design and performance. The Kingpin 88 is perfect for metal clay, jewelry and glass firing and is equipped with 10 preset metal clay programs (5 for Art Clay and 5 for PMC) along with 4 user defined custom programs for glass, beads and general firing.

As with all Evenheat products, the Kingpin 88 is well designed and is backed up by Evenheat's excellent customer service.

Picture shows the window option.

Order your Kingpin 88 with the optional Viewing Window. The Viewing Window provides a chamber view without having to open the door. You'll love it!

The Kingpin 88 is offered with a bead door, shown below, for those who also want to anneal glass beads. The bead doors on the Kingpin 88 feature a wide 7-1/2 "opening as well as 15 mandrel teeth for maximum use. The bead door also features a soft, flexible fiber seal that forms slightly around the bead mandrel for added stability.

Optional Bead Door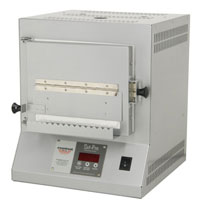 This kiln is equipped with the Set-Pro w/ Express Mode, 3 button control. Express Mode offers the artist easy 3 step programming. Simply select your glass COE, firing style and speed and the Set-Pro automatically develops your firing program. It's quick, easy and accurate.

The Set-Pro also features custom programming and firing adjustments that allow you to add time, temperature or skip directly to the anneal.
Max Firing Temp: 2000F
Inside Dimensions (inches): 6H x 8W x 8D
Cubic Feet: .22
Voltage: 120
Amps: 12
Watts: 1440
Plug: NEMA 5-15R
Shipping Weight: 40 lbs