As of 2023, ALL new L&L School Master & Doll Kilns come standard with the Genesis Mini Touchscreen Kiln Controller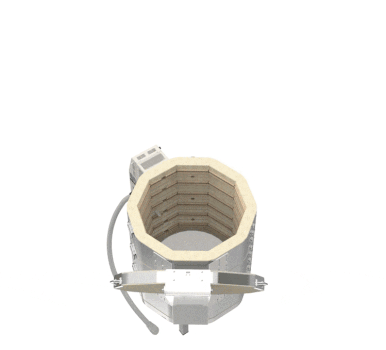 -- Kiln Upgrades and Add-Ons --
L&L's School Master kilns are super-durable and include all of the easy-maintenance features of the Easy-Fire kilns. For simplicity, however, School-Master kilns feature the intuitive One-Touch kiln control that has a standard Bisque and Glaze program tuned to the needs of most K-12 programs. Temperature, heating and cooling rate, delay time and soak time can all be easily modified for the two main programs and remain set that way until deliberately changed. In addition, for more advanced users, there are four custom programs.
The control is single zone and the kilns have graded elements. L&L has also made sure to tune the element resistance for good performance. The School-Master kilns are limited to Cone 6 operation even though the construction of the kilns can handle higher temperatures.
School Master kilns also offer a
Five Year Warranty
!
Furniture Kit Includes:
--Two 20" Full Round Shelves and Four 20" Half Round Shelves
--Six each of 1/2", 1", 2", 4", 6", & 8" high 1-1/2" Square Ceramic Posts
--One Pair Heat Resistant Gloves
Related Items:
Grinding Brick
Vent-Sure System
Kiln Gloves
Lift Gate