Amaco #58, Warm Brown 50lbDISC
$38.00
Item #: AC58
Priced per 50 pound box.

Stoneware
Cone 5 - Cone 7

The unique composition of No. 58 creates a warm brown color of reduction when fired in oxidation up to Cone 7 & a terra cotta color at Cone 05. It's a good all around clay for the classroom because of its versatility.

*PLEASE NOTE* 25 lb increment does not apply for Amaco- order by 50 lb box only.

To purchase a clay regularly stocked by The Ceramic Shop, consider changing to S259. Click the image below!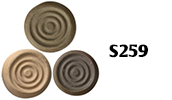 JOIN OUR NEWSLETTER!