The Ceramic Shop retail store will be closed Saturday 7/2 - Tuesday 7/5 in observance of the holiday. We are always open online. Happy 4th of July!!!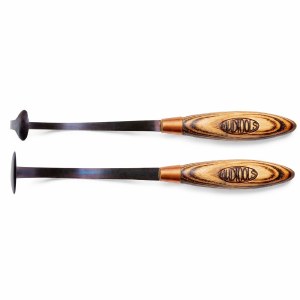 Mudtools Chatter Tool, Small
$50.00 $47.50 $2.50
Item #: MTCTS
Part of the new Signature Series, these Mudtools chatter tools are a work of craftsmanship; made of carbon steel, copper and found local hardwood. The sharpened spade allows you to cut into the clay providing crisp texture. The unique neck it specially tempered to provide optimal flexibility and allow the blade to bounce back. The Thumper comes in two sizes: small, best for your average cups and bowl & wide for those of you who like to throw bigger.
JOIN OUR NEWSLETTER!