The Ceramic Shop retail store will be closed Saturday 7/2 - Tuesday 7/5 in observance of the holiday. We are always open online. Happy 4th of July!!!
Extruder Circle Die Set (4)
$18.50
Item #: CSXDIE0SET2
Set includes circle extrusion dies with diameters measuring:
1/4 inch (x1)
3/8 inch (x1)
1/2 inch (x1)
5/8 inch (x1)

Here are at The Ceramic Shop, we're always creating new stuff. We're happy to introduce our new selection of 2-inch plastic extruder dies, which fit perfectly in handheld clay extruders like Scott Creek's Super Duper Clay Gun or the Super Duper XL Clay Gun.

Available for purchase individually or as a full set of four.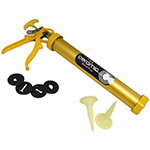 - Check out The Ceramic Shop's Hand Extruder!
JOIN OUR NEWSLETTER!