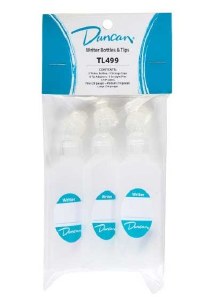 Writer Bottles and Tips SetDIS
$8.75
Item #: DWRBTK
Duncan Writer Bottles & Tips offer superior decorating performance while improving product shelf life & stability. Designed for use with underglazes, glazes, and nonfired products.

This affordable kit includes:
- Three writer bottles
- Three storage caps
- Three tip adapters
- Three straight pins
- Three tip sizes (20 gauge fine, 18 gauge medium, and 16 gauge large)

Ergonomic Bottle
Comfortable to hold & squeeze, making writing easy. Includes screw-on cap for storage when not in use.

Threaded Tip Adapter
Minimizes leaking with screw-on tips. Airtight seal minimizes evaporation & contamination.

Three tip sizes
Fine for detailed lines & effects, Medium for normal lettering & outlining, and Large for drop-n-fill techniques & bold lines.
JOIN OUR NEWSLETTER!