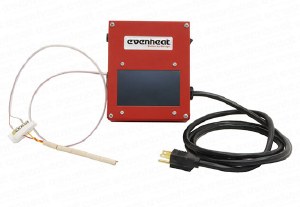 Table Top Controller 3-key
$455.00 $409.50 $45.50
Item #: EHTABLE3K
Evenheat table top controller with Set-Pro 3-key interface (not pictured).

Please note that Evenheat controllers have an extended lead time of approximately 4 weeks.

Turn your manually-controlled kiln into a full-automated kiln with Evenheat's table top controllers. Table top models are only available in 120-volt rated for 15 amps, but we also offer the wall-mounted versions for 120 and 240 volt models, available here.

Once you convert your manual kiln, you'll wonder how you ever went without the ease and convenience of Evenheat's electronic controllers!

Please note that the controller is pictured with the TAP interface.
JOIN OUR NEWSLETTER!