Olympic Traveler Kiln with 3-key controller.

* UPGRADES AND ADD-ONS *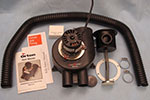 - - Orton Vent Master


About this kiln:
The Olympic Traveler is a 120 volt kiln that comes equipped with an element in the lid for glass fusing and wall elements for ceramics. The versatile Traveler has wheels attached to the frame which allows easy transportation of the kiln to a new location.

Inside dimensions: 11 ½ " x 11 ½ " wide x 11 " deep, fires to 2000° F max.

This model comes equipped with your choice of the Bartlett 3-key, Bartlett 12-key, or Genesis touchscreen controller, attached stand with castors, three peephole plugs, lid wedge, instruction manual, and warranty card.

Furniture Kit includes:
Three 10" x 10" square shelves
Four each 1-6 inch posts
One 1 lb bag kiln wash
One 3 sq ft of ceramic paper

2 year warranty.


Related Items:
Grinding Brick with Handle
Kiln Gloves

Please note that FREE SHIPPING only applies to the continental United States. For all other locations, please contact us for a shipping quote.
Max Firing Temp: 2000F
Inside Dimensions (inches): 11.5"L x 11.5"W x 11"D
Cubic Feet: 0.84
Voltage: 120
Amps: 15
Watts: 1800
Plug: NEMA 5-20
Shipping Weight: 168 lbs