Our online shop is always open!
Attention local customers: our retail store is closed until further notice, please click HERE for more information.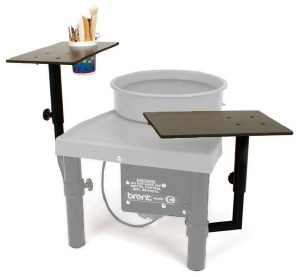 Brent Worktables, Set of 2
$311.00 $279.90 $31.10
Item #: BWTS
Wheel not included.

The Brent Worktable set is the perfect addition to your pottery studio.Both work tables are an ideal platform for storing tools and finished pieces while working on the wheel.

Each individual table attaches to the rear legs of your Brent wheel. Both tables come with two sets of supports and two knobs which can be adjusted for height and rotation.

The Larger of the two tables comes with a cut out for holding a cup for tools or water (cup included).

Both worktables Fit all Brent B, C, CXC, and EX wheels ( also fits IE- IE-R & IE-X models made after January 2009)

Table sizes:
One- 16"x10"
One- 18"x10" (includes cut out and cup)
JOIN OUR NEWSLETTER!