Our online shop is always open!
Attention local customers: our retail store is closed until further notice, please click HERE for more information.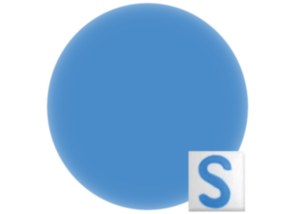 Superwriter 2oz Blue Lagoon
$4.75 $4.15 $0.60
Item #: S433
At the Ceramic Shop we love Spectrum's SuperWriter Glaze Pens! They are great for personalized surface decoration - on both small and large forms. Not only do these glazes produce beautifully vibrant colors, they are packaged in sleek narrow bottles so that they take up little space on your shelf or in your tool box. Because they conveniently come in small 2 oz. bottles, you can purchase many different colors without committing to a large volume before you even test it! The bottle's innovative pen-style applicator makes applying the glaze easy. Different stroke thicknesses can be achieved simply by altering the amount of pressure applied to the bottle while drawing and by changing the speed at which you write. Additionally, small metal tips can be purchased for fine-line drawing (see below). The bottles are made from a soft plastic which makes them easy to hold and allows for no-slip grip (even with wet hands!).

And, just in case you aren't already sold, with these glaze pens there is hardly ever any mess. Who doesn't love that? Let's face it, the worst part of glazing is the clean up!

Spectrum's SuperWriter Glazes can be applied to cone 04/03 bisqueware and covered with a clear or transparent glaze. Alternatively they can be applied on top of another glaze.


Instructions for Use:
Before use, unscrew the black plastic cap and remove the liner from the bottle opening. After screwing the cap back on, remove the clear plastic cover. The black plastic tip has a small hole which can be used as is. If you wish to create thicker lines, carefully cut off a small piece of the tip with an exacto knife or scissors in order to make the hole bigger.

Just prior to use, cover the hole and shake pen towards the cap end of the bottle to ensure even mixing of the glaze components. Squeeze a small amount of glaze onto a piece of scrap paper to test flow rate and remove any trapped air bubbles. You are now ready to draw on your pot!

Hold the tip of the pen at a slight angle to the surface of your work and gently squeeze the bottle to establish an even flow. If the glaze becomes too thick to flow properly, remove the black cap and add 2-3 drops of water, replace the cap and shake vigorously. Move the pen slowly while drawing to create evenness in flow and glaze thickness. Allow to dry.

To maximize the lifespan of your glaze pen, replace the clear plastic cap when not in use. Spectrum recommends inserting a thin metal wire (you can use a straightened staple) into the applicator tip to prevent the glaze from hardening and clogging the pen.


For Finer Lines:
If you would like to make finer lines than can be achieved using the plastic tip you can purchase metal tips of varying sizes (visit our slip trailing section) that can be attached to the black plastic tip. After use, metal tips should be removed and cleaned with water.

Specifications:

Fires to Cone 04/05
Lead-free
Non-toxic
Food safe
Each bottle is 2 fl. oz. (59 mL)
Bottle dimensions: 5.75" (height from base to applicator tip), 1" (diameter)
JOIN OUR NEWSLETTER!