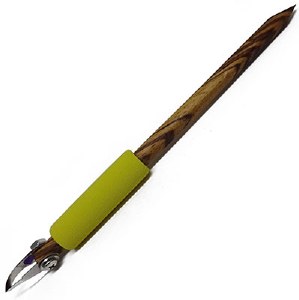 Zebra Pencil Carver V-Tip
$32.00 $28.80 $3.20
Item #: CIPENCILV
Zebrawood "Pencil" Carvers for clay carving, Sgraffito, Mishima, sculpting and more!

These magnificent tools feature: ultra-sharp stainless steel blades and handmade Zebrawood handles. Much sharper than ordinary loop tools, they are capable of carving bone-dry or leatherhard clay and leaves little to no debris or burrs.
Carve Bone Dry or Leatherhard Clay

Carve much faster with much less force, plus it's self-sharpening! Carving is done in the "beak down" position while Sgraffito is done with the back side of most blades. Less clogging, adjustable handle and blades, and a comfortable grip means less hand and muscle fatigue!
JOIN OUR NEWSLETTER!