Need an adjustable stool?
We offer an extension set that can be purchased with this stool to add adjustability.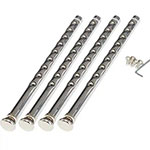 - Stool Leg Extensions

National Public Seating item 6230 - 30" hardboard stool is perfect for use at a handbuilding table!

Standard Color is grey with a hardboard seat.

Industry standard from National Public Seating.