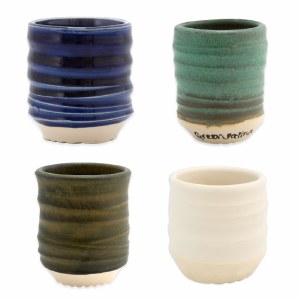 Glaze Sample Set 3 Etsy Favor
$23.80
Item #: C6003
We have many Etsy customers who love our glazes but just don't need large quantities. Our sample size glazes originally designed for potters to test fit and color are now purchased by artists working with smaller forms. Makers of tiles, jewelry, including beads, belt buckles, buttons, earrings, even artists making ceramic cufflinks love these glaze colors. So we decided to make a set. It provides you with samples of four of our top selling glazes.

Make what you want, and save what you can with our sample glaze sets.

Cone 6

This sample set contains 8 oz of the following glazes (clockwise from top left):
Black Orbit
Green Patina
Matte Clear
Cash Money Blue

Our Cone 6 glazes have been used in studios and schools for over ten years. All glazes are lead free, non-toxic and conform to ASTDM 4236 standards.
JOIN OUR NEWSLETTER!