Our online shop is always open!
Attention local customers: our retail store is closed until further notice, please click HERE for more information.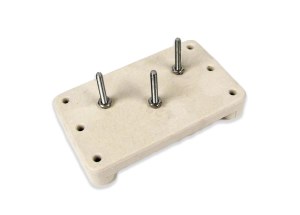 L&L Terminal Block, Series
$39.00
Item #: LLTERMBLK
Ceramic Element Connection Board for kiln sections with two elements. Unit includes three terminal screw assemblies.

This item is used on two element kiln sections that are wired in series . You will typically see this wiring on the newer Jupiter J(D)2300 kilns with a "V" designation in their part number.

Need replacement wire or connectors? We have wire by the foot as well as pre-crimped connecting wires and assemblies here.

L&L Part L-J-BK18/CE
JOIN OUR NEWSLETTER!