Our online shop is always open!
Attention local customers: our retail store is closed until further notice, please click HERE for more information.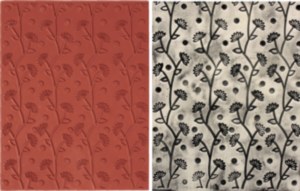 Designer Mat, Flower Branch
$16.95 $14.95 $2.00
Item #: MMT001
NEW from Mayco! Mayco's Designer Mats made of latex rubber, the same material and thickness as Mayco's Designer Stamps. The mats can be used to create surface textures in your ceramic work by pressing the textured side into wet clay. These texture mats are great because they do not stick to the clay and release from the pot's surface quite easily. Alternatively, they can be used to apply glaze, underglaze or slip. Simply brush a layer of any of these onto the surface of the mat and press against your greenware or bisqued pot.

Mayco's Designer Mats are great for schools and home studios - both kids and adults love them! They are easy to clean and store.

Each texture mat measures 7" x 9".
JOIN OUR NEWSLETTER!