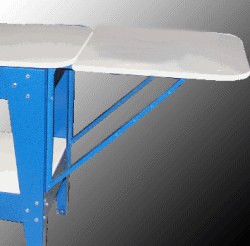 NS Standard Blank Wing 24"
$149.99
Item #: NSBLW24



Please note that North Star bucket and blank wings are made to order and may have an extended lead time.

The North Star 24" Standard Blank Wings are perfect additions for the 24" Standard Slab Roller! The Blank Wing serves as an add-on worksurface to your slab roller!

The wings just fold down against the legs when not in use. Each wing can support up to 100 lbs each. The wing supports are made from durable materials and are powder coated. Wing measures 24"x24"x3/4".

Shipping Weight: 25 lbs.
JOIN OUR NEWSLETTER!