Join us In-Store for our Annual BLOWOUT SALE, Saturday June 3rd (10am-4pm) at our Norristown, PA store!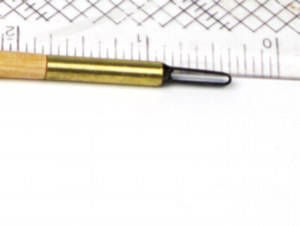 Mini Sculpting Tool Dolan M30
$13.50
Item #: DM30
The Dolan Mini Sculpting Tool Series is great line of tools for both potters and sculptors. The smaller sizes available in this line allow potters to create delicate lines on their wares while trimming. Similarly, handbuilders and sculptors can use these tools to add detail to their work.

Dolan trimming and sculpting tools are made from high quality wood and hardened steel. They are durable and sharp, allowing for smoothness in carving as the tool is dragged across leather hard clay.

Please see image for details on shape and size. Ruler shown is in inches.
JOIN OUR NEWSLETTER!