Our online shop is always open!
Attention local customers: our retail store is closed until further notice, please click HERE for more information.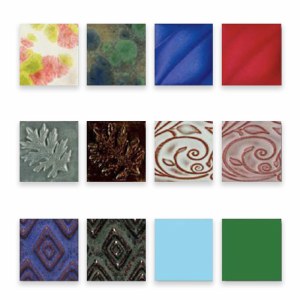 K-6 Sampler Class Pack #1
$218.00 $174.40 $43.60
Item #: AK6CP1
Amaco's Low Fire Glazes K-6 Class Pack No. 1 contains one pint each of the following glaze colors:

From the Crystaltex series:
CTL-9 Snap Dragon
CTL-43 Aurora

From the Textured Alligator series:
LT-15 Speckled Blue Gray
LT-166 Mottled Orange

From the Matt series:
LM-20 Blue Iris
LM-56 Red

From the Stone Texture series
ST-20 Blue
ST-30 Rust

From the Opalescent series
O-10 Transparent Pearl
O-54 Dusty Rose

From the Teacher's Palette series:
TP-20 Sky Blue
TP-41 Frog Green

These class packs are great for sampling different glazes and for adding variety to your glazing. Ideal for both the classroom and individual potters and ceramics artists.

Cone 05

Amaco Product Number: 39217V

All colors in this class pack are LEAD FREE and AP Non-Toxic.
JOIN OUR NEWSLETTER!