Join us In-Store for our Annual BLOWOUT SALE, Saturday June 3rd (10am-4pm) at our Norristown, PA store!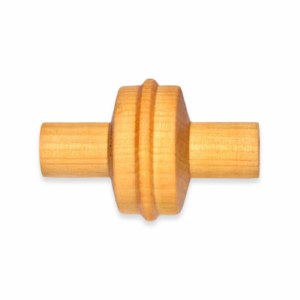 MKM Small Roller, 1.5cm, RS101
$10.95 $9.86 $1.09
Item #: MKMRS101
MKM RS-101 Small Wooden Roller Stamp: single big groove



These beautiful, oiled hardwood roller stamps by MKM are built to last! For use with the comfortable grip, MKM Roller Handle, these stamps can be used to create bold impressions on pots or slabs easily and effortlessly. Simply press the stamp into the clay and roll along while holding the handle! It's so easy and really fun!

These stamp rollers are great for advanced potters and beginning ceramics artists, and we recommend them for both adults and school age children. Please use the DROP-DOWN menu above to scroll through the wide variety of images and patterns available.

The designs on all MKM stamps have a bevelled edge, which makes imprinting and removing easy and precise. The oiled wood is also ideal because it minimizes the degree to which the clay sticks to the stamp.
Please note: The black areas of the drawings represent lines that are carved into the wood, and, are therefore, raised lines in the clay when the stamp is used.

The small roller in this series measures 1.5 cm across. At The Ceramic Shop, we love using this size for creating textured borders on the rims of bowls and plates and along the edges of slabs of clay.

These rollers fit the MKM Roller Handle.
JOIN OUR NEWSLETTER!