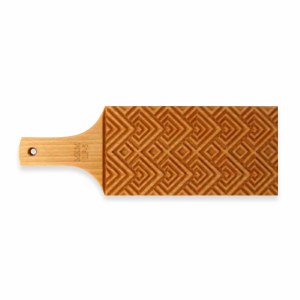 Textured Paddle, Large #5, MKM
$18.95 $16.10 $2.85
Item #: MKMLP5
This beautifully crafted, large, textured wooden paddle made by MKM is great for both paddling thrown pots as well as for creating textured forms while handbuilding. With this paddle you can create patterned coils, handles, slabs, etc. You can simply place the paddle on a flat surface and lay a slab of clay on top of it. Then, with a rolling pin (or your hand), gently roll over the slab, lightly pressing the clay into the paddle. The paddle is designed for easy release of the clay, which now has a gorgeous textured pattern on it! Sometimes it is useful to use two paddles and press the clay in between so that both sides of the slab are patterened.

The backside of this paddle is plain, with no texture, making it ideal for use as a traditional paddle tool, which is great for altering thrown forms and compressing clay. A convenient hole in the handle allows you to hang your paddle for easy storage.

This and all MKM paddles are made from hardwood coated with tung oil.

Please see image for texture patterns.

Additional sizes and patterns are available for purchase.


Dimensions:
Paddle width, 4.5"
Paddle length, 8.75"
Total length of tool, 13"
Wood thickness, 0.45"
JOIN OUR NEWSLETTER!