Our online shop is always open!
Attention local customers: our retail store is closed until further notice, please click HERE for more information.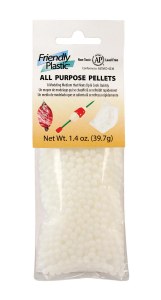 Friendly Plastic Pellets 1.4 o
$9.00 $8.10 $0.90
Item #: PELLETS14
TWO NEW TRIAL SIZES - 1.4 oz. and 7 oz. bags!

When you Google® Friendly Plastic®, you will find inventors and sculptors who make replacement tools, parts, and prototypes with white Friendly Plastic® Pellets. Even NASA ad M.I.T. use Friendly Plastic® for prototypes with scientists and students. Problem-solving and home repairs can be just as easy! Add to warm water for sculpting or pressing into a mold.
Friendly Plastic® Pellets are completely reusable. Simply re-soften and start over.

Perfect for children's projects.

Heating instructions for Friendly Plastic® Pellets:
1. Heat water in electric skillet until temperature reaches 140°F (60°C) to 150°F (66°C) for about five minutes. Set control to 150°F (66°C) or less. Most electric skillets have a low/simmer setting. Test with cooking thermometer. Add one or two drops of cooking oil to water to prevent sticking.
2. Pour Friendly Plastic® pellets into the hot water. Let set in water for about 30 seonds at 150°F (60°C) to 60 seconds at 140°F (60°C) until transparent. Pellets will stick together. Wet hands and remove from water.
3. Shape with your hands or press into a mold. When the desired shape is formed, place into cold water for three to five minutes. Place back in hot water for further shaping.
JOIN OUR NEWSLETTER!