Join us In-Store for our Annual BLOWOUT SALE, Saturday June 3rd (10am-4pm) at our Norristown, PA store!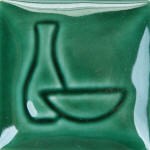 1609 Emerald Green Envision 4
$5.50 $4.95 $0.55
Item #: DIN16094
Rebranded from Duncan

The Envision Series is the best quality nontoxic, dinnerware-safe glaze in colors you love! Envision® Glazes work with a variety of decorating techniques and produce a distinctively smooth and elegant appearance in intense colors ranging from opaque to transparent.
Envision® Glazes should be applied to cone 04 bisque ware and fired to cone 06.

Glazes are perfect for ceramic artists, schools and contemporary potters.
· Easy to use
· Creamy consistency for excellent brushability
· Works in perfect harmony with other Duncan glazes and underglazes for dramatic results
JOIN OUR NEWSLETTER!