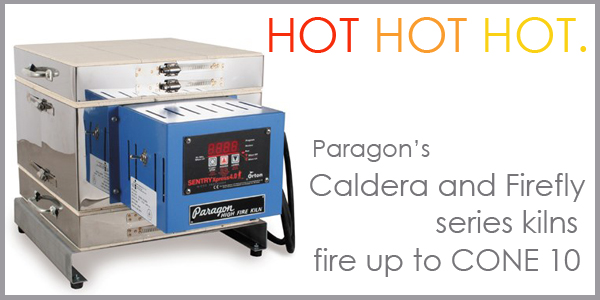 Save an extra 5% on the Paragon Caldera!

A $44 value, only until the end of 2016!

From now through December 31st, 2016, our friends at Paragon kilns are offering an extra 5% off the list price of their Caldera, exclusively for Ceramic Shop customers!

Simply add the Paragon Caldera to your cart and enter the code CALDERA under the field marked "WebStore Coupon", and it'll automatically take $44 off your total!

Offer only valid on Caldera model. Caldera XL and Caldera-S models excluded.
Paragon's Caldera and Firefly series of kilns are small but mighty – these multi-purpose kilns can handle all of your glass, enameling, and PMC needs for jewelry and small objects, but are also capable of being fired all the way up to Cone 10, making them great for testing high-fire ceramic claybodies and glazes or creating small clay objects! These kilns all come equipped with Paragon's easy-to-program Sentry 3-key controller, which means you can easily enter your target firing temperature and rate and let the controller do the rest! The great insulation on these kilns, coupled with their powerful elements, mean that they can climb to temperature FAST, which makes them a great choice for the busy seminar instructor!
If you need some further information or help selecting the right Caldera or Firefly kiln for your studio or classroom, please give us a call at 215-427-9665 – we love to talk kilns!